I'm playing along with The Stamps of Life
design team challenge
this week...the challenge is to use polka dots on your project!
I've been itching for time to sit down and use the new special releases,
icons4us and youare2kind
. You could probably make just about any card you wanted to with these two sets!
As I dove into my scrap pile I spotted my leftovers from an earlier project, the
summer mantle display
...and guess what? Polka dots! So after hunting down some appropriate inks, this is what I made!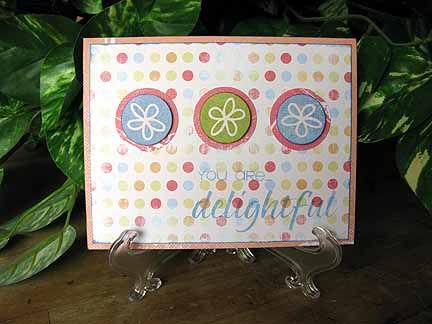 Hey, here's a hint for anyone who might not know this...if you are using clear stamps and are trying to use your dye inks and the ink is 'beading' up on the surface, so that the image is spotchy instead of smooth coverage...ink up your stamp with clear embossing ink first, then apply the dye ink color...and presto...smooth coverage!
Thanks for looking!
Meredith