Welcome to the Autumn Blessings Blog Hop!


We're hopping around the web in celebration of our blessings at this beautiful time of year! Thank you for joining us and we hope you leave with a bit of inspiration and maybe a new friend or two! After the blog hop, please be sure to stop by the Cardmaker
Cardswap Forum
to join in for several days of challenges for creating and fun!
You should have arrived here from
Lora's blog
, aren't her projects the best? She has such a versatile style, clean and simple, with just the right touches of embellishment to set off whatever project she is making perfectly! If you didn't land here from Lora's blog, please click on over to visit her so that you don't miss any of the great things we have in store for you!
I have a life filled with many blessings...don't we all? Today I would like to express my gratitude for my friends. I have such lovely friends in my life, so many people who have helped me to become the person that I am today. Friends who encourage me to overcome struggles that I have, friends who applaud my accomplishments, good friends who compliment me on improvements that I make and great friends who comfort me in my times of need. I am so grateful for the love that each of them shares with me in different ways. I hope that each of you take some time today to thank a special friend that you have in your life.
Thank you for sharing that special thought with me.
Now, on to my project! I wanted a quick project that would give me (or whomever I give it to) a quick pick-me-up whenever I saw it.
I chose to make a bookmark. You will not believe how easy this was to make! I am looking forward to making several more as gifts for my friends this holiday season, after all, doesn't everyone need another bookmark?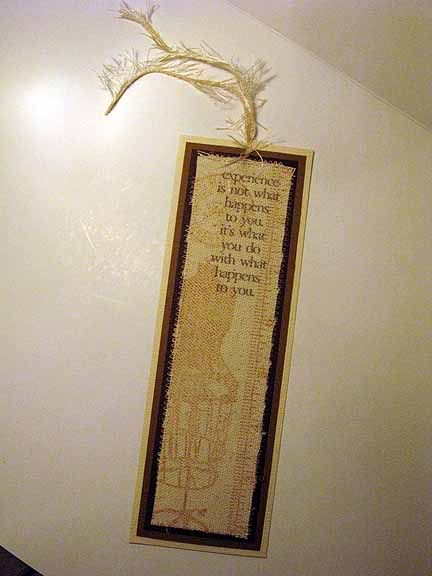 It reads, "experience is not what happens to you. it's what you do with what happens to you."
I used:
cream canvas,
stamps (Tim Holtz),
three layers of cardstock (Bazzil, Co'ordinations, Reminisce),
ink (Distress Ink, Memento Ink),
sewing machine,
other (adhesive, 1/16" hole punch, fiber).
Cut the canvas to 1 3/4" x 6 3/4" and stamp with Distress ink for background. Use darker contrast ink to stamp main sentiment. Use adhesive to hold canvas in place on one or two layers of cardstock and stitch canvas around edges. Adhere final cardstock as backing to cover stitching. Punch hole at top and insert fiber.
Thanks for stopping by my little blog, your next stop is
Judy's blog
, and I know that you will enjoy what she has in store for you. Not only is she an exceptionally talented cardmaker, with a superb sense of design, she colors her images beautifully (a talent that I have yet to master), and her altered art projects are simply divine!
Here is the full list of blog participants, in case you get lost along the way:
Lora
Meredith
<--- You are here
Judy L
Golda
Ana
Traci
Angelina
SusieQ
Tina
Ivanka
Jane