So, because I participated in last weeks challenge, I got the image for
Stretch n Bubbles Creative Chick Challenge
emailed to me for free...but after looking at it, seriously, you need to click on over to their
store
to purchase it!!! It is the cutest little pirate girl!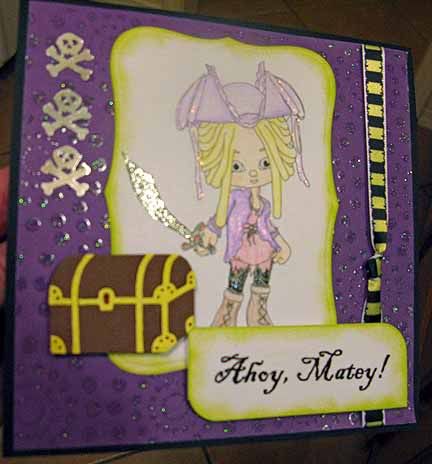 I know that the picture isn't exactly sharp...but I was trying to capture the sparkles with the camera...that's actually difficult! I'll take a picture outside in the light tomorrow, maybe that will be better...
I guess I was feeling the sparkle today...because this card is covered in it!!! I used the darling image and colored it in with pencils...then I added some stickles in silver to the sword, and black on her pants. Next, I added some clear glitter glue for the lace and ribbons on the hat and her coat. The sentiment was printed on the computer as well, in ms word using the Blackadder ITC font. The little treasure chest was cut using a cuttlekids die...I bought the pirate set almost two years ago...and have finally used it, yeah! More sparkle with the glittery patterned paper, that was a recent purchase in the dollar section of Target. The striped ribbon and silver skull and crossbones are both from the dollar section of Michael's.
I've got a very special recipient in mind for this card...but its a surprise...shh!
Enjoy,
Meredith