Welcome to the next blog of the Sugar Crash Crop Blog Hop!!!

You should have come here from Carolyn King's blog, does she not have fabulous style? I love her daughter's 'couch' moment...lol. If you got here from another route...then be sure to click on over to Lora's blog to start, so that you don't miss out on any of the sugary sweet fun!

Why hop around? Well, there are 16 stops on the hop where you can win a prize or pick up a cool sketch or digital image. The only way to win the prizes is to leave a comment on that blog AND its always nice to say thank you for the freebies too. PLUS, our blog hosts have worked very hard and we want to show a little love and appreciation!

You are invited to participate in the Sugar Crash Crop at Cardswaps, too. There are 10 challenges to be posted over the next three days (November 4th thru 6th, 2010) and EVERY challenge will have a winner! What is the prize, you ask? A papercrafts book from Cardmaker Magazine!! Plus, one lucky crop participant will win a cardmaking kit that makes 50 cards! It is very cool, you must play along!

Now, on to my project!!!

With a theme like Sugar Crash...I needed something sweet...what could be sweeter than card candy???

What is card candy, you may ask? No, it has nothing to do with the quickly dwindling bowl of tootsie rolls on my table....well, unless you count them as a source of energy, that is!

Card candy is an embellishment that you make to put on your card...have you ever die-cut a shape? Punched a border? Stamped and matted a sentiment? Paper-pieced an image? Sure you have! Well, you've made card candy!!!

Sometimes, you can make up several coordinating embellishments, and store them together so that when you want to make up a card quickly, you can have them ready to go...sort of a compliment to a card kit if you want to do some card making on the go...

So, in honor of the Sugar Crash Crop, I made up some Christmas Card Candy!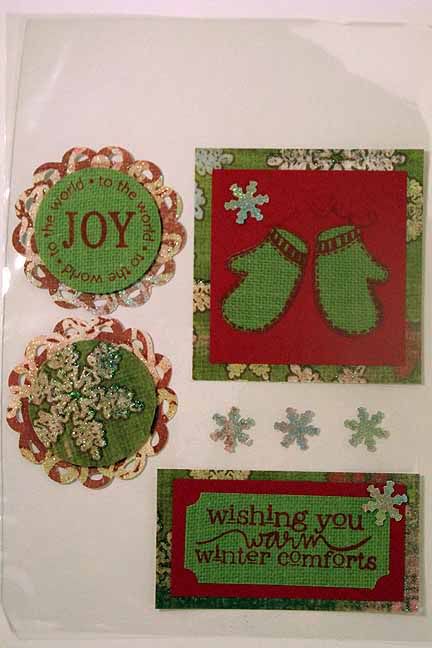 I used some stamps from Unity (mittens and sentiment) and Penny Black (joy seal), some fabulously glittery papers from My Mind's Eye (green snowflakes and red/cream swirl) and scraps from other projects (red cardstock and green linen printed paper), scarlet ink from TPC Studios, punches from EK Success (ticket, square, circle) and unknown (snowflake) and the great little loopy scalloped circles were cut on my Cricut using Make the Cut software.

Here is a different angle of the card candy, to show off the glitter better!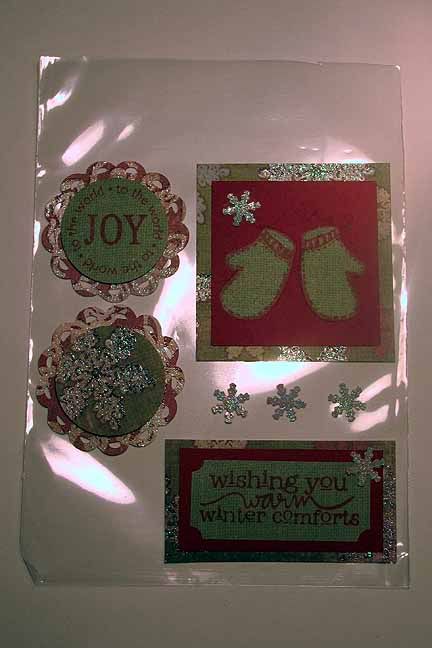 I believe that the holiday season is my favorite time of the year! It is certainly a busy time, with my birthday, Christmas and my wedding anniversary all in one week! I love the cooler weather, I love pulling out the scarves to wear, I love choosing the new Christmas music to listen to this year...I love it all! I wish each and every one of you a happy holiday season this year!

You have until 11:59pm CST, November 6th, 2010 to post your comments on the blogs along the hop. (That includes mine, please!) Everyone that comments on my blog will be entered in the drawing to win a prize from me!

Are you ready for some Christmas card making? How about some card candy to start you off? The prize that a lucky blog commenter will win from my blog is a set of the card candy that I made above, plus, all the goodies that you see in the picture below!

It includes 6x6 patterned paper and cardstock, die cut shapes, punched border, alphabet fabric stickers, paper flowers and pewter metal embellishments!




In addition, if you want to participate in the challenges for the Sugar Crash Crop go check it out after the blog hop and upload your completed projects by 11:59pm CST, November 8th, 2010. There are prizes to win there, too!

Your next stop along the hop is Ashley, she is such a talented crafter, you'll enjoy her project!
Here is a full list of the blog hop hosts...just in case you missed a stop along the way!