Woo Hoo! Thanks to the fabulous and fun Cardmaker's Cardswap forum mini crop for World Cardmaking Day...I'm in the zone!!!
Over at the
Stretch n Bubbles blog
they have a weekly challenge...they provide a digital stamp, and if you make and post a card with the stamp, and include a link to the store in your post, then next week the image is emailed to you! How cool is that...a free stamp every week!
On the first Wednesday of the month, the image is free to anyone...if you join in during the rest of the weeks then you need to purchase the image...this week, you can get the image from this
post here
...if it is later, stop by the
Stretch n Bubbles store
to pick it up!
This is the card I made with this weeks image...it came together so quickly!!!
I made the cauldron upside down...like there is some kooky magic going on...that's just how the drawing looked to me...(besides, I'm kind of a kooky person....)
I even colored...which is not usual for me...since I'm normally so critical....anyway, here it is!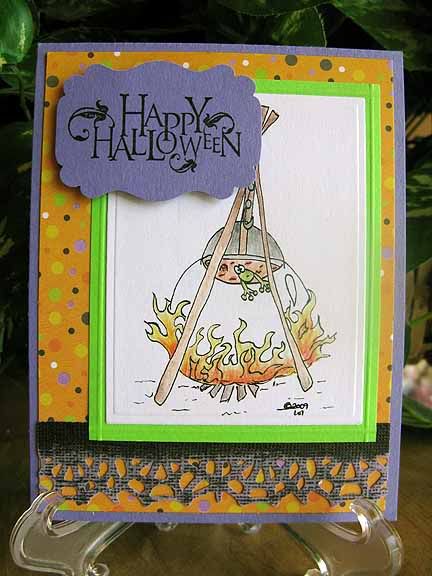 What do you think?
Card recipe: cardstock (white,purple, green): from stash, color core cardstock: Co'ordinations, patterned paper: K&Company, digital stamp (image): Stretch n Bubbles, sentiment stamp (happy halloween): Unity Stamp Company, other: spiderweb border: cut on cricut with svg file, shape around sentiment: ek success punch
Enjoy,
Meredith