So, a dear friend who lives all the way up in Oregon is having a very special birthday in February. She (and her husband) will be celebrating the first anniversary of the birth of their son!
Since my youngest will be turning 12 this year, it has been a while since we've celebrated that particular birthday!
I know that little C won't particularly care about a card right now, but after going through many of my mom's things last fall, and finding adorable cards from her childhood and mine...I took the time to make a special card, just for him.
I started with the sketch from the
Clean & Simple Stamping blog, FTL #125
...I have the best time with their sketches...if you have not checked them out before...do...you will love it!
I also have a few ideas running around in my head for the challenge over at
Do You Stack Up?, Patterns...
Then I found some great papers at JoAnn's, and took it from there!
Supplies: cardstock: purple (DCWV), turquoise (Coredinations), cream (stash); patterned paper: birthday, (DCWV); ink (TPC Studio); embossing folders: dots, plaid (Sizzix), swirls, squares (Cuttlebug); gems: i-rock by imaginesce; other: sandpaper
After embossing the patterns into the turquoise patterned paper, I sanded the raised designs to add another layer of pattern...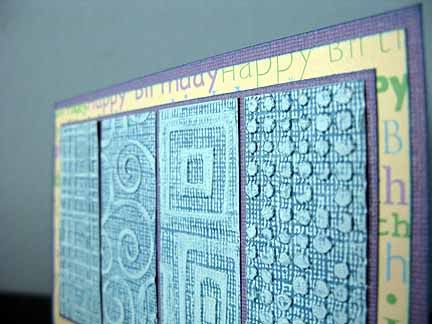 And yes, these are some more gems that I attached using my i-rock tool...I think I'll be using these fairly often...they are just so much fun to put on! And way easier to line up than brads...while the glue is still melted, you can nudge the gem into place...be careful though, it is still hot! Ask me how I know...
The real fun for this card came when it was time to do the inside...
I just love clear stamps! I used stamps from three designers and five different sets to put this little phrase together. Please, tell me that you can read what it says??? When I showed it to my daughter and husband they both got funny looks on their faces for a minute...and after puzzling it out, they could read what it says....
To get my phrase, I laid out the stamps on my inside layer, then placed a clear block over them...I inked up the stamps, then made a test stamp on a scrap piece of paper...and am I glad that I did! The stamps are different thicknesses! Even stamps made by the same designer! So I ended up inking up the stamps in several steps...and lining them up to get what I wanted...but hey, it worked!
Stamps used: 1: Penny Black; L,W: The Paper Company Studio; small letters, happy, birthday: The Stamps of Life
Enjoy,
Meredith