I tell you, what a blast! Between the games and the camaraderie, who knew that playing with online friends could be such fun! If you haven't yet, come on over to the Cardmaker Swap forum, and join in the fun!

Yesterday was a bonanza cardmaking day for me,

four

cards! All with different techniques...what a blast.

First was the 'keep it zesty' challenge...use citrus colors as your main colors...how summery!




I used papers from a Miss Elizabeth pack for this one...what used to be sold at Dollar Tree...and I was going for a 'shop front' look with the border punch I chose (Martha Stewart). The flower is a Bazzil paper flower, inked up, and the sentiment was cut with the cricut.

Next came the 'make something marvelous' challenge...use purple as your main color and include some lace. Let me tell you, finding purple in my craft room was not as easy as it should have been! And lace...where's the lace???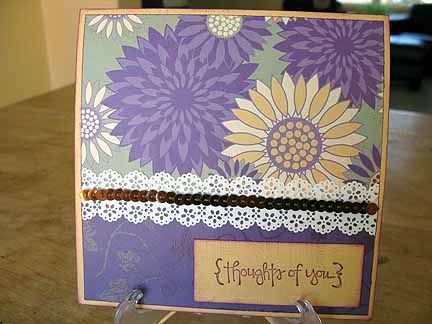 But I managed! The lace is actually a paper sticker on a roll...the packaging is gone, same with the papers...but they turned out fairly well!

Next in line was the challenge called 'card say moo...'....say what??? It was a great challenge, a real stretch for me, but one I'm not sorry I decided to try. Are you ready for this? The challenge is to use sweetened condensed milk to stamp an image...then you heat emboss it...sweet!!!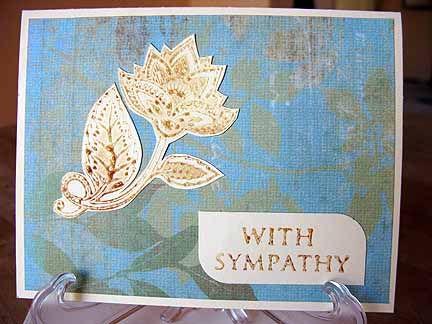 It really gives an elegant, old-time look to the stamp...and the detail of the stamp comes through surprisingly well! I'm not sure I'll be using this style regularly...but it was neat to try!

Last card of the day was very different from my normal...but what a cute idea! The challenge was titled 'can I water your garden', and we used this watering can template to print out a watering can to then decorate as we wished! That simple!




I loved how simple it was, and love the idea of using this as a teacher gift from my youngest son to his teachers this year!

I hope to squeeze more cardmaking around the chores today...

Enjoy,

Meredith