Welcome to the Sunny Days "Somewhere Over the Rainbow" Blog Hop! I know that you are having a great time hopping around and enjoying everyone's creations! You should have arrived here from Ana's blog...is she not the most joyful person? Endlessly creative, and a Twilight fan to boot ~ Fabulous!

The theme of this blog hop is "Somewhere Over the Rainbow". Each blog hostess has been assigned a color. At the end of this rainbow is the link to your pot of gold! Be sure to click through the link so you can join us in the Card Swaps forum for challenges, games, fun and prizes! We're all sure to have a lot of fun!

The color that I have been assigned is green (betcha guessed that already!) Normally, green is a color that I use to accent...so making it the focus of a card was different for me. I do love this color though...to me, green means Spring! My lawn greens up, my plants start sending out new growth and become happy mounds of green that I know will be covered in flowers soon, and we plant seeds and starts in the garden. Happy Green Spring!

And without further ado, here is my card:

It looks involved, but was very easy to put together. I used some doodle flowers from a Stamps of Life set to dress up my background paper, just randomly stamping and spacing where it looked good to me. Another smaller layer on top of that for the sentiment, and that's it for the cardstock and paper. The flowers are all from one package, and while I love layering them, I wanted to try something different this time. So I folded one of the flowers in half and put a shiny gem brad in the center middle, kind of like a black-eyed susan. I then folded another flower into quarters and used a button from my stash to accent the bud shape. The last flower is just the three types that came in the package layered together with a glittery brad in the center.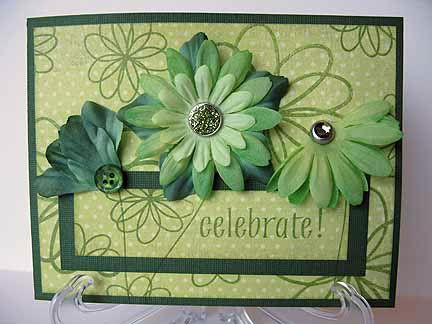 Supply list: cardstock:Hobby Lobby, patterned paper:My Mind's Eye, ink:TPC Studios, flowers and brads:The Paper Studio, stamps:The Stamps of Life
For the inside, I wanted enough room for the whole family to sign, so I covered the cardstock with patterned paper, stamped my sentiment, and scattered some more stamped flowers across the pages.

And hey...this is a plea to any designers out there...could we please have some awesome anniversary sets? With happy and anniversary in several different fonts and sizes...and maybe even some labels or frames to go around? There are so many wedding sets out there...but one wedding equals lots and lots of anniversaries!!! And if any of you know of any fabulous anniversary sets...please, leave me a comment and tell me where!!!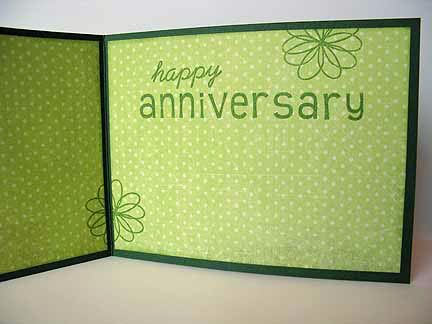 We aren't doing prizes on the blog hop today, because the real prize is seeing great ideas and filling your mind with inspiration. However, I do hope you leave a comment and let me know what you think! There is also a post in the forum where you can post any cards you make that are blog hop inspired. I do hope to see you there! Here is a link to the Cardmaker's Cardswaps forum...but don't go until you get through the blog hop, we'll all have this link for you!

Your next stop along the hop is Laura. She has a sense of style that won't quit and a sense of humor that goes even longer! I know you'll enjoy your visit!

In case you want a map, here is the complete list of blogs in order:

Lora
Susan H
Golda
Jane
Ana
Meredith ~ You are here!
Laura
Angelina
Ashley

Enjoy,

Meredith