Oh, I am so glad to have the world wide web for inspiration! Throughout December I was struggling to feel creative...it was a good thing that I had a stash of Christmas cards that I had made earlier to use for the card exchange that I was in...or I would have been in trouble!
So I spent most of the month surfing around the web, soaking up all of the lovely projects that are out there that I could see...without feeling the desire to head into my craft cave at all...
But, when the challenge came to use buttons on a card, I knew exactly what I wanted to do! And I ran into my craft cave and did it!
(After making a quick run to the craft store for some adhesive, since the ones I had wouldn't hold the buttons on...)


And here we go!




The cardstock and buttons are from my stash...is it a bad thing that using this many buttons on one card didn't even put a dent in my button jar? The stamp is from Katie & Co.

Here is a closer look at the way the buttons are piled on...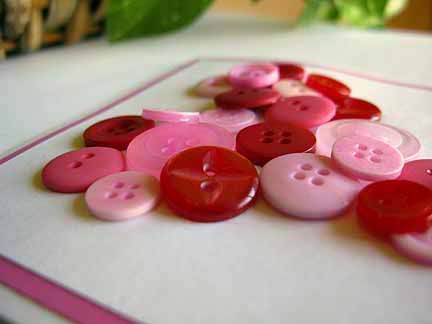 Isn't that just clean, simple and fabulous?

It was too easy to do...I made the card, this one is a top fold A2 size, I added the pink mat and white front layer, cutting them 1/4" smaller than the layer before, then I traced a wooden heart shape onto the front of the card lightly with a pencil. Originally, I had intended to just fill the heart with buttons, but I did not have the sizes necessary to do that without distorting the heart shape or leaving too many gaps for the look I intended. So...I piled them on top of one another and voila! Fabulousness!!!

I'm linking this little card up to the first challenge over at the new Do You Stack Up? challenge blog...go have a look, they are off to a roaring start!

Enjoy,

Meredith