So, as my profile states, I dabble in several crafty endeavors...of which knitting is one...
I actually learned to knit when I lived in Los Alamos, New Mexico...I had moved from Kansas, and had left behind a sewing group that was fantastic...we had a monthly sew-in, where we went to a shop from 4pm to midnight, and sewed, chatted and ate all night long. I missed the camraderie and like-minded crafty friends.
So, when I saw the notification of a weekly knitting group in the newspaper, that stated they would teach anyone who wanted to learn, I jumped at the opportunity. And to my surprise, I loved it!
I don't knit nearly as much as I did while I lived there, but occasionally I finish a project, yeah!
This first project was quite a work in progress...I fell in love with the yarn...Sensations, sold in JoAnn's stores...it is acrylic, but sooo soft, and not at all itchy, even with the fuzzyness...and it is self-striping...so I bought all the store had in this color, and started a lap blanket for myself....I knew that I didn't have enough yarn, but I figured that the store would restock it, and I would purchase the rest that I needed.
Well, that didn't happen! The store never restocked the yarn! I went to the other stores in town, no good. Then I tried online...still no yarn. I waited half a year, still no sign of the yarn...I was so bummed!
But I really liked this yarn, so I ripped out the afghan, and made myself a scarf.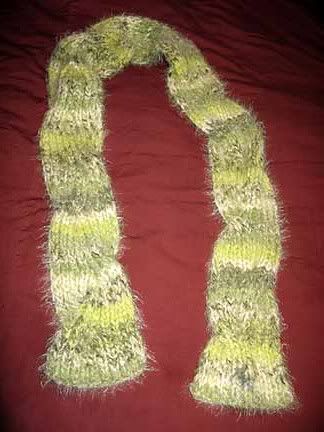 I found an awesome pattern online for a reversible cabled scarf, that is really just one big cable...its fabulous! It was quick to work up, and not a difficult pattern at all. When I make it again, I'll actually use larger needles, because the 10.5's that I used actually made a stiffer fabric than I wanted...but I didn't make up my mind about that until the scarf was almost done, so I'll leave this one how it is. I love it!
Here's the clincher though...about a month after I finished the scarf...guess what I saw in my local JoAnn's???? That's right...my yarn! At first I was upset...but then I just laughed, because there is no way that I'm gonna rip out my scarf!!!
Next is my most recent project...I have a favorite pattern book that I turn to any time I want to make a baby blanket...do you have pattern books like that? My favorite is "
Quick Knit Baby Afghans
" by Leisure Arts. I have made four or five of the patterns...and have loved each and every one of them.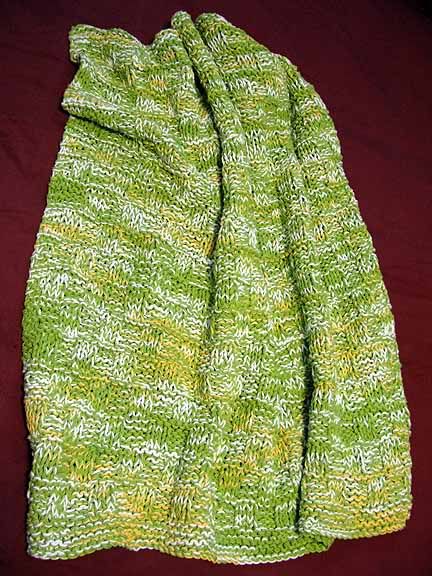 This blanket has an alternating pattern of knit and purl stitches, that make it look like it is made up of alternating squares...so easy, but so great looking! Here is a closer look at the pattern...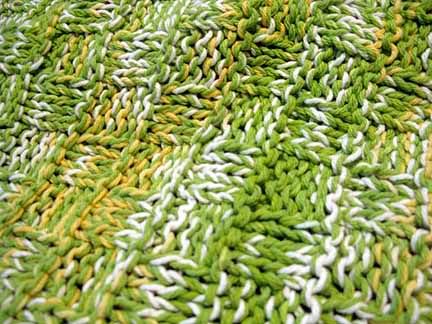 I almost always make baby blankets out of cotton yarn, its just a personal preference of mine, I love the weight of the blanket. All of these patterns call for knitting with two strands held together, which is why they come together so quickly. They do take a lot of yarn...usually about 700 yards of both colors.
As far as colors go, I have always used one solid and one variegated...I like the way they blend. I like the colors available in the baby yarns now...they are so much more varied than just pastel pink and blue...it's fabulous. What is not fabulous, however, is the million or so ends that I have to weave in when I use those small balls of baby yarn...ugh.
So imagine my delight when I found a huge ball of cotton yarn! And I mean, huge! JoAnn's (and other places) sell Bernat Handicrafter Cotton yarn...and the huge skeins have over 600 yards in even the ombre colors...more in the solid colors! It was great! I made this whole 36" x 36" baby blanket from just one skein of each color!
This blanket now has a new home waiting for the arrival of my newest nephew, due at the beginning of April 2011...he is coming to northern Idaho, so I'm sure that a warm blanket will come in handy!
Enjoy,
Meredith