Well, it is a tremendously generous world out there...and I am grateful for being able to share in the bounty...
If you do a search for 'free svg' you will come up with a lot of sites and blogs that have them available....one such place that I have downloaded a few files from is the
Free SVG Blog
, and yesterday I tried out one of the files....fabulous!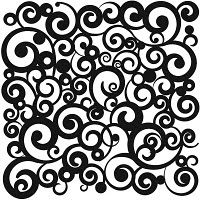 It was originally designed to be cut out as a 12x12 page...which I will certainly use it for another time...but I wanted a 'lace' background for a card, so I resized the file, and used MTC to send it to my cricut to cut....I'll admit, I was a bit nervous, because of all the small cuts and curves...but it worked beautifully!
Here is my finished card...with the gorgeous lace background....thank you to generous designers who share their files for free!!!
Now, I know you want this file...so you head right on over to the
Free SVG Blog
and pick it up...be sure to leave a thank you!
I'm inspired to learn how to make one of these lace backgrounds for myself...only make it in a size intended to be used on cards....4" by 5 1/4"....that would easily scale just a bit up or down....hmm....looks like I'll be playing with a graphic editing program soon!
Enjoy,
Meredith