You are on the CardSwaps World Cardmaking Day Blog Hop! You should have arrived here from
Irina's blog
. If you got here differently, make sure you start at the beginning and work your way around. Comment on
every
blog by midnight CST, October 3, 2010, to be entered in to a drawing for prizes. The full list of prizes are on
Lora's blog
.
My Challenge was
....make a 10 minute card....
Which is a funny challenge to me, because I am a fan of Stephanie Barnard of
The Stamps of Life
, and she actually posts a monthly video titled, "30 second card (in 5 minutes) on her
blog
, and I always get a kick out of watching them...sorry, no videos here! (lol)
Ok, really...this was a lot harder than I thought it would be....really!
I wanted to get a couple of things out before I started the timer...here is my workspace, ready to go...
I thought that it would be fun to make a halloween card...since I've got all that stuff gathered, waiting to make some with my son...
So, here is what I had after 10 minutes...
That's it!!! I had the card folded, I had
two
of my inside mats cut...and I had
one
image stamped....
how pitiful is that!!!!!
I thought it was hilarious! I guess I've never paid any attention to how long I spend making a card....have you?
So, more than 40 minutes later....this is what I had....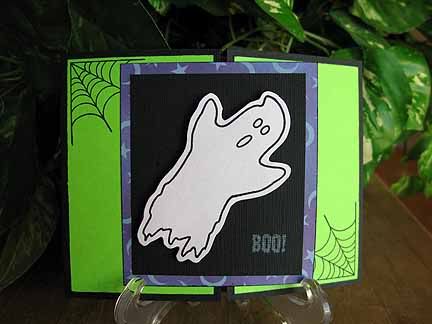 Card Supplies: cardstock (green, black, yellow, white) from stash, patterned paper (purple moons, orange polka dots) K & Co, ink (black, watermark) Tsukineko (white) blanco, stamps (frankenstein) craft smart for Michael's (ghost, boo, spiderweb, spider, mini ghosts, happy halloween and trick or treat) The Stamps of Life spooky2scare and thanks2fall sets
An adorable halloween card, inside and out...but I'm still laughing about how long I take to create a card!!!!
Here are some close-ups of the details...
I made a gate-fold card...just cut your cardstock 11" wide by 4 1/4" high, and score it at 2 3/4" in from each short side...then they will meet in the middle!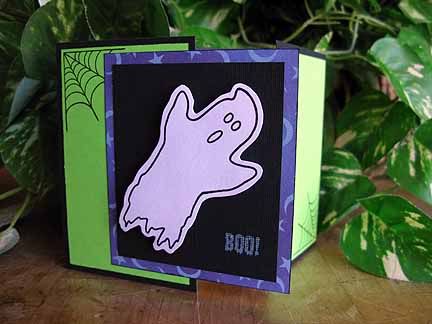 I cut the purple rectangle mat at 3 1/4" wide by 3 3/4" tall, and the black mat a bit smaller, and only adhered it to half of the front...so that the card could open...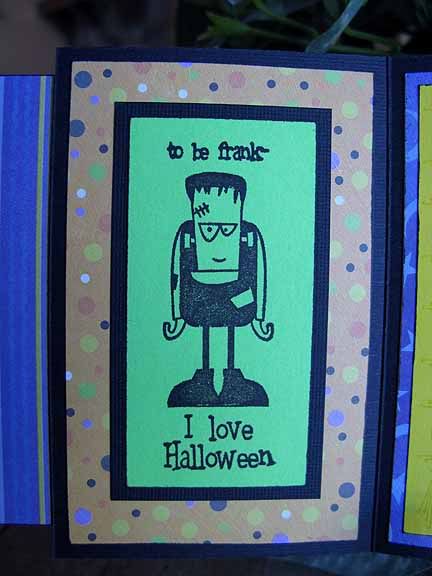 Isn't this stamp a crack-up? I got this one in the dollar bin!!!
I cut the mats for the sides (both front and back) at 2 1/2" wide by 4" tall.
Here you can see my watermarked spider border....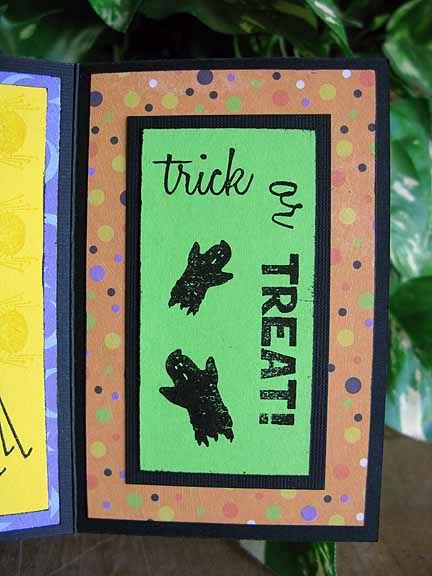 And the second side...aren't those wee ghosties adorable?
Lots of details...which makes for a much longer than 10 minute card!
Honestly, I thought I could do better, time wise...so I tried again....
Here is my work area ~ take two...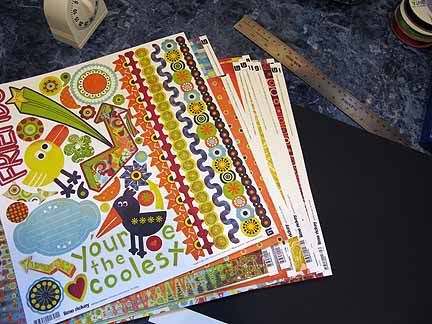 This time, I decided to pull out a coordinated paper/embellishment pack. Maybe it was cheating....but I call it smart planning!
10 minutes later, I was much happier with my results....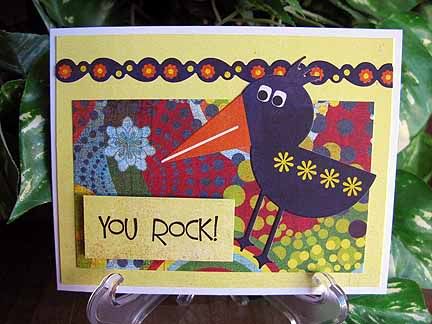 The front was done....and the inside just needed the sentiment....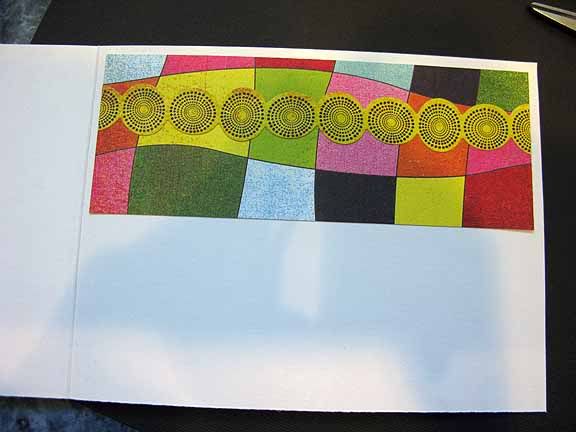 Here it is completed inside....took me about 12 minutes total....much better!
Card supplies: cardstock (white) from stash, patterned cardstock and sticker embellishments lime rickey by Basic Grey, ink (black) Tsukineko, stamps (thanks, you rock) The Stamps of Life thanks2you set.
So, all in all, I learned that I'm not that creative when under the clock!!! How about you? Are you ready to give it a try? When you finish the blog hop, the last link will be to the mini-crop challenges on the Cardmaker message board....I'm going to have fun reading and seeing what others can do in their 10 minutes!!!
A bit about me ~ Like many, I started cardmaking as an offshoot of scrapbooking. I was attending regular crop nights at a local scrapbooking store and was exposed to lots of gorgeous rubber stamps and card samples ~ eventually, I decided to try my hand, and now, my pictures remain lonely and unprinted on my computer while I make cards every opportunity that I have! If you browse through my blog, you'll see that I try lots of different techniques and styles, but lean toward simple and slightly distressed with texture...
Now, on with the blog hop!
You have until midnight, CST, October 3rd 2010, to post your comment on each blog along the hop. Everyone that comments on each blog will be entered into the drawings for blog hop prizes. In addition, if you want to participate in the challenges for the mini crop at
Card Swaps
, go check it out after the blog hop and upload your completed project by midnight CST, October 3, 2010, in order to get in the drawings for more prizes!
Your next stop on the hop is
Ana
!
Here is the complete list of blogs participating...be sure to get them all!